Technical phosphoproteomic and bioinformatic tools useful in cancer research
Journal of Clinical Bioinformatics
2011
1:26
Received: 9 June 2011
Accepted: 3 October 2011
Published: 3 October 2011
Abstract
Reversible protein phosphorylation is one of the most important forms of cellular regulation. Thus, phosphoproteomic analysis of protein phosphorylation in cells is a powerful tool to evaluate cell functional status. The importance of protein kinase-regulated signal transduction pathways in human cancer has led to the development of drugs that inhibit protein kinases at the apex or intermediary levels of these pathways. Phosphoproteomic analysis of these signalling pathways will provide important insights for operation and connectivity of these pathways to facilitate identification of the best targets for cancer therapies. Enrichment of phosphorylated proteins or peptides from tissue or bodily fluid samples is required. The application of technologies such as phosphoenrichments, mass spectrometry (MS) coupled to bioinformatics tools is crucial for the identification and quantification of protein phosphorylation sites for advancing in such relevant clinical research. A combination of different phosphopeptide enrichments, quantitative techniques and bioinformatic tools is necessary to achieve good phospho-regulation data and good structural analysis of protein studies. The current and most useful proteomics and bioinformatics techniques will be explained with research examples. Our aim in this article is to be helpful for cancer research via detailing proteomics and bioinformatic tools.
Keywords
TiO2Phosphorylation SiteMultiple Reaction MonitoringdDAVPOropharyngeal Squamous Cell Carcinoma
Introduction
Phosphoproteomics plays an important role in our understanding of how phosphorylation participates in translating distinct signals into the normal and or abnormal physiological responses, and has shifted research towards screening for potential therapies for diseases and in-depth analysis of phosphoproteomes. These issues can also be studied by structural analysis of proteins and bioinformatic tools. Specific domains discriminate between the phosphorylated vs. the non-phosphorylated state of proteins, based on the conformational changes induced by the presence of a negatively-charged phosphate group in the basal state of the phosphopeptide [1]
Phosphorylated proteins, chemically quite stable, are prone to enzymatic modification, so that when tissues or cells are lysed, it is very likely that further enzymatic reactions will occur [2]. Good sample preparation is the key to successful analysis. These will generally be snap-frozen and treated with phosphatase inhibitors to avoid modifying phosphopeptides during sample work-up [3, 4]. Also, it is critical to avoid salts and detergents, which can decrease the recovery of phosphopeptides or interfere with subsequent analysis [5]. Phosphopeptides generally make up a small portion of the peptides in a given protein sample, making detection difficult. Their enrichment [e.g. via Immobilised metal ion affinity chromatography (IMAC), Titanium dioxide metal-based chromatography (TiO2), Zirconium dioxide (ZrO2), Sequential elution from IMAC (SIMAC) or Calcium phosphate precipitation] helps to combat this problem.
When combining the previously mentioned phosphoenrichments with Strong cation and anion exchange (SCX and SAX) or Hydrophilic interaction chromatography (HILIC), large-scale phosphoproteomic studies of interest can be carried out successfully [6]. If the goal of the research study includes quantification of phosphorylated proteins, there are several useful techniques [e.g. Stable Isotope Labelling with Amino acids in cell Culture (SILAC), Isobaric Tag for Relative and Absolute (iTRAQ), Absolute Quantitation (AQUA), Multiple Reaction Monitoring (MRM), or Label-free quantification], which allow important large-scale phosphoproteomic studies [7–19]
Once the phosphorylation state of a protein, constitutive or associated to cancer disorders has been established by proteomics methods, a range of bioinformatics methods permits deeper study of its properties and contacts. Using sequence analysis, sequence comparison, virtual approaches of protein-protein, protein-ligand interaction or molecular dynamics simulations, initial physical information can be applied for the potential development of personalized approaches, aimed at the concept of personalized medicine. Bioinformatics covers a wide spectrum of techniques for the generation and use of beneficial information from structure, sequence or relationships among biological items (DNA, RNA, proteins, macromolecular complexes, etc) [
20
,
21
]. From all these methods, those most useful in clinical cancer studies are: Ascore, PhosphoScore, data analysis from Next-Generation Sequencing, studies of sequence comparison and sequence--structure relationship, homology modelling and the more sophisticated rational drug design and molecular dynamics techniques. Using phosphoproteomics together with structural analysis of proteins and bioinformatic tools, important biological understanding of malignant diseases can be achieved. A prototypical proteomics coupled to bioinformatics pipe-line useful for clinical cancer research is illustrated (Figure
1
)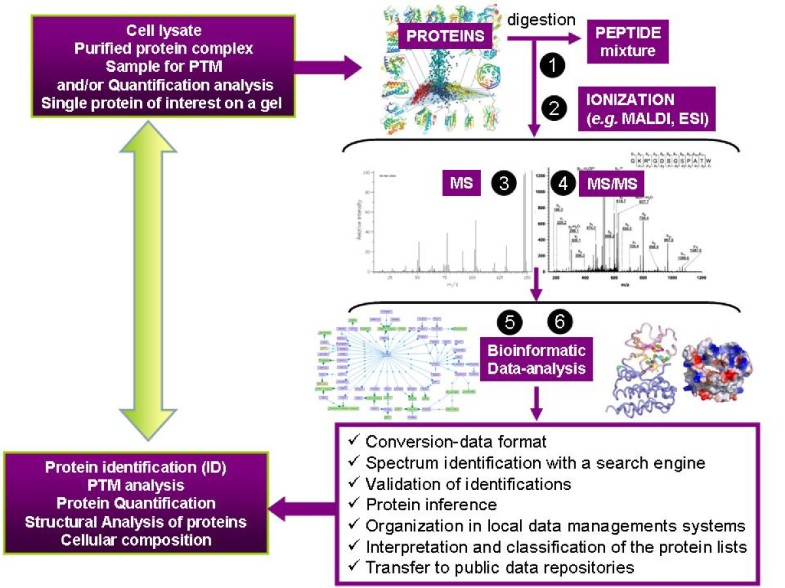 Conclusions
Aberrant activation of kinase signalling pathways is commonly associated with several types of cancer. Recent developments in phosphoprotein/phosphopeptide enrichment strategies, quantitative mass spectrometry and bioinformatic tools have resulted in robust pipelines for high-throughput characterization of phosphorylation in a global fashion.
It is possible to profile site-specific phosphorylation events on thousands of proteins in a single experiment. Chemical proteomic strategies have been used to unravel targets of kinase inhibitors, which are otherwise difficult to characterize. This approach's potential is already being used to characterize signalling pathways that govern oncogenesis. We summarized various approaches used for the analysis of the phosphoproteome in general and protein kinases in particular, highlighting key cancer phosphoproteomic studies.
Different proteomic and bioinformatic strategies need to be combined to achieve good phosphopeptide quantitative-protein studies. From the point of view of the so-called "personalized medicine", bioinformatics studies of reversible phosphorylation in proteins will allow the generation of models for protein-protein contacts at the atomic level taking into account each particular protein sequence. Molecular dynamic analysis of those contacts, be it in healthy people or in cancer studies, will allow the modification of the 3D computer models obtaining virtual structures tailored to individual patients. The next step in the future of drug development will be the generation of drugs specifically designed to each particular patient. It is necessary that clinicians, proteomics and bioinformatics work together in order to improve therapies and drug candidates development.
List of Abbreviations
AQUA :

Absolute Quantitation
CID :

Collision-Induced Dissociation
Da :

Dalton (molecular mass)
DIGE 2-D :

Fluorescence Difference Gel Electrophoresis
ECD :

Electron Capture Dissociation
ESI :

Electron Spray Ionization
ETD :

Electron Transfer Dissociation
FT-ICR :

Fourier transform-Ion Cyclotron Resonance
HILIC :

Hydrophilic interaction chromatography
HPLC :

High-performance liquid chromatography or high-pressure liquid chromatography
H 3 PO 4 :

Phosphoric acid
ICR :

Ion Cyclotron Resonance
IMAC :

Immobilized Metal Affinity Capture
IT :

Ion Trap
iTRAQ :

Isobaric Tag for Relative and Absolute Quantitation
kDa :

kilodalton (molecular mass)
LC :

Liquid Chromatography
MALDI :

Matrix-Assisted Laser Desorption/Ionization
MD :

Molecular Dynamics
MOAC :

Metal Oxide Affinity Chromatography
Mr :

Relative molecular mass (dimensionless)
MRM :

Multiple reaction monitoring
MS :

Mass Spectrometry
MSA :

MultiStage Activation
MS/MS :

tandem mass spectrometry
m/z :

Mass to charge ratio
PID :

Primary Immunodeficiencies
PTM :

Post-Translational Modification
SILAC :

Stable Isotope Labelling with Amino acid in cell Culture
SIMAC :

Sequential Elution from IMAC
TiO 2 :

Titanium dioxide
TOF :

Time Of Flight
ZrO 2 :

Zirconium dioxide
Declarations
Acknowledgements
EL is a recipient of a Post-doctoral fellowship of Ministerio de Ciencia e Innovación de España. IL is a recipient of a FLL (Fundación Leucemia y Linfoma) grant. SRM holds a tenured position at Spanish National Hospital 12 de Octubre. This study was supported by: the Spanish Ministerio de Ciencia e Innovación through grants SAF2007-61926 (to PGP) and the European Commission through grant FP7 HEALTH-F3-2009-223431 (to PGP). Biomol-Informatics was financed by the European Social Fund. Support from the "Fundación Ramón Areces" is acknowledged. We also thank the Centro de Computación Científica-UAM for computational support. Special thanks Prof. Ernest Feytmans (Honorary Director at Swiss Institute of Bioinformatics -Location Geneva Area, Switzerland) and Prof. Shabaz Mohammed (Theme Leader at the Netherlands Proteomics Centre, Lecturer Utrecht University) who contributed to the publication of this article.
Authors' Affiliations
(1)
Centro de Investigación i+12 del Hospital Universitario 12 de Octubre, Madrid, Spain
(2)
Centro de Biología Molecular "Severo Ochoa" (CSIC-UAM) Campus de Cantoblanco, Madrid, Spain
(3)
Biomol-Informatics, S.L., Parque Científico de Madrid, Campus de Cantoblanco, Madrid, Spain
(4)
Servicio de Hematología Hospital QUIRÓN, Madrid, Pozuelo Madrid, Spain
(5)
Servicio de Digestivo, Hospital Universitario 12 Octubre, Madrid, Spain
References
López E, López I, Sequi J, Ferreira A: Discovering and validating unknown phosphosites from p38 and HuR protein kinases in vitro by Phosphoproteomic and Bioinformatic tools. Journal of Clinical Bioinformatics. 2011, 1 (1): 16-10.1186/2043-9113-1-16. [http://www.jclinbioinformatics.com/content/1/1/16]PubMed CentralPubMedGoogle Scholar
Virshup DM, Shenolikar S: From promiscuity to precision: protein phosphatases get a makeover. Mol Cell. 2009, 33 (5): 537-45. 10.1016/j.molcel.2009.02.015.PubMedGoogle Scholar
Grønborg M, Kristiansen TZ, Stensballe A, Andersen JS, Ohara O, Mann M, Jensen ON, Pandey A: A mass spectrometry-based proteomic approach for identification of serine/threonine-phosphorylated proteins by enrichment with phospho-specific antibodies: identification of a novel protein, Frigg, as a protein kinase A substrate. Mol Cell Proteomics. 2002, 1 (7): 517-27. 10.1074/mcp.M200010-MCP200.PubMedGoogle Scholar
Zhang ZY: Functional studies of protein tyrosine phosphatases with chemical on different phosphopeptide enrichment techniques. Biochim Biophys Acta. 2005, 1754 (1-2): 100-7.PubMedGoogle Scholar
Jensen SS, Larsen MR: Evaluation of the impact of some experimental procedures on different phosphopeptide enrichment techniques. Rapid Commun Mass Spectrom. 2007, 21 (22): 3635-45. 10.1002/rcm.3254.PubMedGoogle Scholar
White FM: Quantitative phosphoproteomic analysis of signalling network dynamics. Curr Opin Biotechnol. 2008, 19 (4): 404-9. 10.1016/j.copbio.2008.06.006.PubMed CentralPubMedGoogle Scholar
Schmelzle K, White FM: Phosphoproteomic approaches to elucidate cellular signalling networks. Curr Opin Biotechnol. 2006, 17 (4): 406-14. 10.1016/j.copbio.2006.06.004.PubMedGoogle Scholar
Springer WR: A method for quantifying radioactivity associated with protein in silverstained polyacrylamide gels. Anal Biochem. 1991, 195 (1): 172-6. 10.1016/0003-2697(91)90314-J.PubMedGoogle Scholar
Wyttenbach A, Tolkovsky AM: Differential phosphoprotein labeling (DIPPL), a method for comparing live cell phosphoproteomes using simultaneous analysis of (33)P- and (32)P-labeled proteins. Mol Cell Proteomics. 2006, 5 (3): 553-9.PubMedGoogle Scholar
Ong SE, Mann M: Mass spectrometry based proteomics turns quantitative. Nat Chem Biol. 2005, 1 (5): 252-62. 10.1038/nchembio736.PubMedGoogle Scholar
Blaukat A: Identification of G-protein-coupled receptor phosphorylation sites by 2D phosphopeptide mapping. Methods Mol Biol. 2004, 259: 283-97.PubMedGoogle Scholar
Gafken PR, Lampe PD: Methodologies for characterizing phosphoproteins by mass spectrometry. Cell Commun Adhes. 2006, 13 (5-6): 249-62. 10.1080/15419060601077917.PubMed CentralPubMedGoogle Scholar
Lopez E, Lopez I, Ferreira A, Sequi J: Clinical and Technical Phosphoproteomic Research. Proteome Sci. 2011, 9 (1): 27-10.1186/1477-5956-9-27.PubMed CentralPubMedGoogle Scholar
Zhang H, Zha X, Tan Y, Hornbeck PV, Mastrangelo AJ, Alessi DR, Polakiewicz RD, Comb MJ: Phosphoprotein analysis using antibodies broadly reactive against phosphorylated motifs. J Biol Chem. 2002, 277 (42): 39379-87. 10.1074/jbc.M206399200.PubMedGoogle Scholar
Rush J, Moritz A, Lee KA, Guo A, Goss VL, Spek EJ, Zhang H, Zha XM, Polakiewicz RD, Comb MJ: Immunoaffinity profiling of tyrosine phosphorylation in cancer cells. Nat Biotechnol. 2005, 23 (1): 94-101. 10.1038/nbt1046.PubMedGoogle Scholar
Di Vizio D, Solomon KR, Freeman MR: Cholesterol and cholesterol-rich membranes in prostate cancer: an update. Tumori. 2008, 94 (5): 633-9.PubMedGoogle Scholar
Dietz A, Boehm A, Mozet C, Wichmann G, Giannis A: Current aspects of targeted therapy in head and neck tumors. Eur Arch Otorhinolaryngol. 2008, 265 (Suppl 1): S3-12.PubMedGoogle Scholar
Huang F, Gu H: Negative regulation of lymphocyte development and function by the Cbl family of proteins. Immunol Rev. 2008, 224: 229-38. 10.1111/j.1600-065X.2008.00655.x.PubMedGoogle Scholar
Shah NP: Advanced CML: therapeutic options for patients in accelerated and blast phases. J Natl Compr Canc Netw. 2008, 6 (Suppl 2): S31-S36.PubMedGoogle Scholar
Wang X, Liotta L: Clinical bioinformatics: a new emerging science. Journal of Clinical Bioinformatics. 2011, 1 (1): 1-10.1186/2043-9113-1-1. [http://www.jclinbioinformatics.com/content/1/1/1]PubMed CentralPubMedGoogle Scholar
Baumgartner C, Osl M, Netzer M, Baumgartner D: Bioinformatic-driven search for metabolic biomarkers in disease. Journal of Clinical Bioinformatics. 2011, 1 (1): 2-10.1186/2043-9113-1-2. [http://www.jclinbioinformatics.com/content/1/1/2]PubMed CentralPubMedGoogle Scholar
Andersson L, Porath J: Isolation of phosphoproteins by immobilized metal (Fe3+) affinity chromatography. Anal Biochem. 1986, 154 (1): 250-4. 10.1016/0003-2697(86)90523-3.PubMedGoogle Scholar
Neville DC, Rozanas CR, Price EM, Gruis DB, Verkman AS, Townsend RR: Evidence for phosphorylation of serine 753 in CFTR using a novel metal-ion affinity resin and matrix-assisted laser desorption mass spectrometry. Protein Sci. 1997, 6 (11): 2436-45.PubMed CentralPubMedGoogle Scholar
Figeys D, Gygi SP, McKinnon G, Aebersold R: An integrated microfluidics-tandem mass spectrometry system for automated protein analysis. Anal Chem. 1998, 70 (18): 3728-34. 10.1021/ac980320p.PubMedGoogle Scholar
Li S, Dass C: Iron (III)-immobilized metal ion affinity chromatography and mass spectrometry for the purification and characterization of synthetic phosphopeptides. Anal Biochem. 1999, 270 (1): 9-14. 10.1006/abio.1999.4060.PubMedGoogle Scholar
Posewitz MC, Tempst P: Immobilized gallium(III) affinity chromatography of phosphopeptides. Anal Chem. 1999, 71 (14): 2883-92. 10.1021/ac981409y.PubMedGoogle Scholar
Pinkse MW, Uitto PM, Hilhorst MJ, Ooms B, Heck AJ: Selective isolation at the femtomole level of phosphopeptides from proteolytic digests using 2D-NanoLC-ESI-MS/MS and titanium oxide precolumns. Anal Chem. 2004, 76 (14): 3935-43. 10.1021/ac0498617.PubMedGoogle Scholar
Nuhse TS, Stensballe A, Jensen ON, Peck SC: Large-scale analysis of in vivo phosphorylated membrane proteins by immobilized metal ion affinity chromatography and mass spectrometry. Mol Cell Proteomics. 2003, 2 (11): 1234-43. 10.1074/mcp.T300006-MCP200.PubMedGoogle Scholar
Ficarro SB, McCleland ML, Stukenberg PT, Burke DJ, Ross MM, Shabanowitz J, Hunt DF, White FM: Phosphoproteome analysis by mass spectrometry and its application to Saccharomyces cerevisiae. Nat Biotechnol. 2002, 20 (3): 301-5. 10.1038/nbt0302-301.PubMedGoogle Scholar
Ashman K, Villar EL: Phosphoproteomics and cancer research. Clin Transl Oncol. 2009, 11 (6): 356-62. 10.1007/s12094-009-0369-z.PubMedGoogle Scholar
López E, Matthiesen R, López I, Ashman K, Mendieta J, Wesselink JJ, Gómez-Puertas P, Ferreira A: Functional phosphoproteomics tools for current immunological disorders research. Journal of Integrated OMICS. 2011, 1 (1): 1-16. [http://www.jiomics.com]Google Scholar
Connor PA, Dobson KD, McQuillan J: Infrared Spectroscopy of the TiO2/Aqueous Solution Interface. Langmuir. 1999, 15: 2402-10.1021/la980855d.Google Scholar
Connor PA, McQuillan A: Phosphate adsorption onto TiO2 from aqueous solutions: an in situ internal reflection infrared spectroscopic study. Langmuir. 1999, 15: 2916-10.1021/la980894p.Google Scholar
Larsen MR, Thingholm TE, Jensen ON, Roepstorff P, Jørgensen TJ: Highly selective enrichment of phosphorylated peptides from peptide mixtures using titanium dioxide microcolumns. Mol Cell Proteomics. 2005, 4 (7): 873-86. 10.1074/mcp.T500007-MCP200.PubMedGoogle Scholar
Thingholm TE, Jensen ON, Larsen MR: Enrichment and separation of mono- and multiply phosphorylated peptides using sequential elution from IMAC prior to mass spectrometric analysis. Methods Mol Biol. 2009, 527: 67-78. 10.1007/978-1-60327-834-8_6.PubMedGoogle Scholar
Thingholm TE, Jensen ON, Robinson PJ, Larsen MR: SIMAC (sequential elution from IMAC), a phosphoproteomics strategy for the rapid separation of monophosphorylated from multiply phosphorylated peptides. Mol Cell Proteomics. 2008, 7 (4): 661-71.PubMedGoogle Scholar
Kweon HK, Hakansson K: Selective zirconium dioxide-based enrichment of phosphorylated peptides for mass spectrometric analysis. Anal Chem. 2006, 78 (6): 1743-9. 10.1021/ac0522355.PubMedGoogle Scholar
Zhou H, Tian R, Ye M, Xu S, Feng S, Pan C, Jiang X, Li X, Zou H: Highly specific enrichment of phosphopeptides by zirconium dioxide nanoparticles for phosphoproteome analysis. Electrophoresis. 2007, 28 (13): 2201-15. 10.1002/elps.200600718.PubMedGoogle Scholar
Zhang X, Ye J, Jensen ON, Roepstorff P: Highly Efficient Phosphopeptide Enrichment by Calcium Phosphate Precipitation Combined with Subsequent IMAC Enrichment. Mol Cell Proteomics. 2007, 6 (11): 2032-42. 10.1074/mcp.M700278-MCP200.PubMedGoogle Scholar
Gruhler A, Olsen JV, Mohammed S, Mortensen P, Faergeman NJ, Mann M, Jensen ON: Quantitative phosphoproteomics applied to the yeast pheromone signalling pathway. Mol Cell Proteomics. 2005, 4 (3): 310-27. 10.1074/mcp.M400219-MCP200.PubMedGoogle Scholar
McNulty DE, Annan RS: Hydrophilic interaction chromatography reduces the complexity of the phosphoproteome and improves global phosphopeptide isolation and detection. Mol Cell Proteomics. 2008, 7 (5): 971-80. 10.1074/mcp.M700543-MCP200.PubMedGoogle Scholar
Ong SE, Blagoev B, Kratchmarova I, Kristensen DB, Steen H, Pandey A, Mann M: Stable isotope labeling by amino acids in cell culture, SILAC, as a simple and accurate approach to expression proteomics. Mol Cell Proteomics. 2002, 1 (5): 376-86. 10.1074/mcp.M200025-MCP200.PubMedGoogle Scholar
Gruhler S, Kratchmarova I: Stable isotope labeling by amino acids in cell culture (SILAC). Methods Mol Biol. 2008, 424: 101-11. 10.1007/978-1-60327-064-9_9.PubMedGoogle Scholar
Ballif BA, Roux PP, Gerber SA, MacKeigan JP, Blenis J, Gygi SP: Quantitative phosphorylation profiling of the ERK/p90 ribosomal S6 kinase-signalling cassette and its targets, the tuberous sclerosis tumor suppressors. Proc Natl Acad Sci USA. 2005, 102 (3): 667-72. 10.1073/pnas.0409143102.PubMed CentralPubMedGoogle Scholar
Knowlton ML, Selfors LM, Wrobel CN, Gu TL, Ballif BA, Gygi SP, Polakiewicz R, Brugge JS: Profiling. Y561-dependent and -independent substrates of CSF-1R in epithelial cells. PLoS One. 2010, 26;5 (10):Google Scholar
Ross PL, Huang YN, Marchese JN, Williamson B, Parker K, Hattan S, Khainovski N, Pillai S, Dey S, Daniels S, Purkayastha S, Juhasz P, Martin S, Bartlet-Jones M, He F, Jacobson A, Pappin DJ: Multiplexed protein quantitation in Saccharomyces cerevisiae using amine-reactive isobaric tagging reagents. Mol Cell Proteomics. 2004, 3 (12): 1154-69. 10.1074/mcp.M400129-MCP200.PubMedGoogle Scholar
Sachon E, Mohammed S, Bache N, Jensen ON: Phosphopeptide quantitation using amine-reactive isobaric tagging reagents and tandem mass spectrometry: application to proteins isolated by gel electrophoresis. Rapid Commun Mass Spectrom. 2006, 20 (7): 1127-34. 10.1002/rcm.2427.PubMedGoogle Scholar
Zhang Y, Wolf-Yadlin A, White FM: Quantitative proteomic analysis of phosphotyrosinemediated cellular signalling networks. Methods Mol Biol. 2007, 359: 203-12. 10.1007/978-1-59745-255-7_14.PubMedGoogle Scholar
Wolf-Yadlin A, Hautaniemi S, Lauffenburger DA, White FM: Multiple reaction monitoring for robust quantitative proteomic analysis of cellular signalling networks. Proc Natl Acad Sci USA. 2007, 104 (14): 5860-5. 10.1073/pnas.0608638104.PubMed CentralPubMedGoogle Scholar
Boja ES, Phillips D, French SA, Harris RA, Balaban RS: Quantitative mitochondrial phosphoproteomics using iTRAQ on an LTQ-Orbitrap with high energy collision dissociation. J Proteome Res. 2009, 8 (10): 4665-75. 10.1021/pr900387b.PubMed CentralPubMedGoogle Scholar
Kirkpatrick DS, Gerber SA, Gygi SP: The absolute quantification strategy: a general procedure for the quantification of proteins and post-translational modifications. Methods. 2005, 35 (3): 265-73. 10.1016/j.ymeth.2004.08.018.PubMedGoogle Scholar
Wang G, Wu WW, Zeng W, Chou CL, Shen RF: Label-free protein quantification using LC-coupled ion trap or FT mass spectrometry: Reproducibility, linearity, and application with complex proteomes. J Proteome Res. 2006, 5 (5): 1214-23. 10.1021/pr050406g.PubMedGoogle Scholar
Yu Z, Weinberger PM, Sasaki C, Egleston BL, Speier WF, Haffty B, Kowalski D, Camp R, Rimm D, Vairaktaris E, Burtness B, Psyrri A: Phosphorylation of Akt (Ser473) predicts poor clinical outcome in oropharyngeal squamous cell cancer. Cancer Epidemiol Biomarkers Prev. 2007, 16 (3): 553-8. 10.1158/1055-9965.EPI-06-0121.PubMedGoogle Scholar
Cox DM, Zhong F, Du M, Duchoslav E, Sakuma T, McDermott JC: Multiple reaction monitoring as a method for identifying protein posttranslational modifications. J Biomol Tech. 2005, 16 (2): 83-90.PubMed CentralPubMedGoogle Scholar
Williamson BL, Marchese J, Morrice NA: Automated identification and quantification of protein phosphorylation sites by LC/MS on a hybrid triple quadrupole linear ion trap mass spectrometer. Mol Cell Proteomics. 2006, 5 (2): 337-46.PubMedGoogle Scholar
Qian WJ, Liu T, Petyuk VA, Gritsenko MA, Petritis BO, Polpitiya AD, Kaushal A, Xiao W, Finnerty CC, Jeschke MG, Jaitly N, Monroe ME, Moore RJ, Moldawer LL, Davis RW, Tompkins RG, Herndon DN, Camp DG, Smith RD, Inflammation and the Host Response to Injury Large Scale Collaborative Research Program: Large-scale multiplexed quantitative discovery proteomics enabled by the use of an (18)O-labeled "universal" reference sample. J Proteome Res. 2009, 8 (1): 290-9. 10.1021/pr800467r.PubMed CentralPubMedGoogle Scholar
Wong JW, Sullivan MJ, Cagney G: Computational methods for the comparative quantification of proteins in label-free LCn-MS experiments. Brief Bioinform. 2008, 156-65. 2Google Scholar
Steen JA, Steen H, Georgi A, Parker K, Springer M, Kirchner M, Hamprecht F, Kirschner MW: Different phosphorylation states of the anaphase promoting complex in response to antimitotic drugs: a quantitative proteomic analysis. Proc Natl Acad Sci USA. 2008, 105 (16): 6069-74. 10.1073/pnas.0709807104.PubMed CentralPubMedGoogle Scholar
Zhang Y, Wolf-Yadlin A, Ross PL, Pappin DJ, Rush J, Lauffenburger DA, White FM: Time-resolved mass spectrometry of tyrosine phosphorylation sites in the epidermal growth factor receptor signalling network reveals dynamic modules. Mol Cell Proteomics. 2005, 4 (9): 1240-50. 10.1074/mcp.M500089-MCP200.PubMedGoogle Scholar
Olsen JV, Blagoev B, Gnad F, Macek B, Kumar C, Mortensen P, Mann M: Global, in vivo, and site-specific phosphorylation dynamics in signalling networks. Cell. 2006, 127 (3): 635-48. 10.1016/j.cell.2006.09.026.PubMedGoogle Scholar
Wolf-Yadlin A, Kumar N, Zhang Y, Hautaniemi S, Zaman M, Kim HD, Grantcharova V, Lauffenburger DA, White FM: Effects of HER2 overexpression on cell signalling networks governing proliferation and migration. Mol Syst Biol. 2006, 2: 54-PubMed CentralPubMedGoogle Scholar
Zhao X, León IR, Bak S, Mogensen M, Wrzesinski K, Højlund K, Jensen ON: Phosphoproteome analysis of functional mitochondria isolated from resting human muscle reveals extensive phosphorylation of inner membrane protein complexes and enzymes. Mol Cell Proteomics. 2011, 10 (1):Google Scholar
Green DR, Kroemer G: The pathophysiology of mitochondrial cell death. Science. 2004, 305 (5684): 626-9. 10.1126/science.1099320.PubMedGoogle Scholar
Cohen P: The origins of protein phosphorylation. Nat Cell Biol. 2002, 4 (5): E127-30. 10.1038/ncb0502-e127.PubMedGoogle Scholar
Boneh A: Regulation of mitochondrial oxidative phosphorylation by second messenger-mediated signal transduction mechanisms. Cell Mol Life Sci. 2006, 63 (11): 1236-48. 10.1007/s00018-005-5585-2.PubMedGoogle Scholar
Hunter T: Signalling--2000 and beyond. Cell. 2000, 100 (1): 113-27. 10.1016/S0092-8674(00)81688-8.PubMedGoogle Scholar
Pagliarini DJ, Dixon Dixon: Mitochondrial modulation: reversible phosphorylation takes center stage?. Trends Biochem Sci. 2006, 31 (1): 26-34. 10.1016/j.tibs.2005.11.005.PubMedGoogle Scholar
Hüttemann M, Lee I, Samavati L, Yu H, Doan JW: Regulation of mitochondrial oxidative phosphorylation through cell signalling. Biochim Biophys Acta. 2007, 1773 (12): 1701-20. 10.1016/j.bbamcr.2007.10.001.PubMedGoogle Scholar
Goldenthal MJ, Marín-García J: Mitochondrial signalling pathways: a receiver/integrator organelle. Mol Cell Biochem. 2004, 262 (1-2): 1-16.PubMedGoogle Scholar
Horbinski C, Chu CT: Kinase signalling cascades in the mitochondrion: a matter of life or death. Free Radic Biol Med. 2005, 1;38 (1): 2-11.Google Scholar
Thomson M: Evidence of undiscovered cell regulatory mechanisms: phosphoproteins and protein kinases in mitochondria. Cell Mol Life Sci. 2002, 59 (2): 213-9. 10.1007/s00018-002-8417-7.PubMedGoogle Scholar
Hoffert JD, Pisitkun T, Wang G, Shen RF, Knepper MA: Quantitative phosphoproteomics of vasopressin-sensitive renal cells: regulation of aquaporin-2 phosphorylation at two sites. Proc Natl Acad Sci USA. 2006, 103 (18): 7159-64. 10.1073/pnas.0600895103.PubMed CentralPubMedGoogle Scholar
Rinschen MM, Yu MJ, Wang G, Boja ES, Hoffert JD, Pisitkun T, Knepper MA: Quantitative phosphoproteomic analysis reveals vasopressin V2-receptor-dependent signalling pathways in renal collecting duct cells. Proc Natl Acad Sci USA. 2010, 107 (8): 3882-7. 10.1073/pnas.0910646107.PubMed CentralPubMedGoogle Scholar
Pan C, Olsen JV, Daub H, Mann M: Global effects of kinase inhibitors on signalling networks revealed by quantitative phosphoproteomics. Mol Cell Proteomics. 2009, 2796-808. 12Google Scholar
Chen Y, Lu B, Yang Q, Fearns C, Yates JR, Lee JD: Combined integrin phosphoproteomic analyses and small interfering RNA--based functional screening identify key regulators for cancer cell adhesion and migration. Cancer Res. 2009, 69 (8): 3713-20. 10.1158/0008-5472.CAN-08-2515.PubMed CentralPubMedGoogle Scholar
Ruttenberg BE, Pisitkun T, Knepper MA, Hoffert JD: PhosphoScore: an open-source phosphorylation site assignment tool for MSn data. J Proteome Res. 2008, 3054-9. 7Google Scholar
Hoffert JD, Wang G, Pisitkun T, Shen RF, Knepper MA: An automated platform for analysis of phosphoproteomic datasets: application to kidney collecting duct phosphoproteins. J Proteome Res. 2007, 3501-8. 9Google Scholar
Timmermann B, Kerick M, Roehr C, Fischer A, Isau M, Boerno ST, Wunderlich A, Barmeyer C, Seemann P, Koenig J, et al: Somatic mutation profiles of MSI and MSS colorectal cancer identified by whole exome next generation sequencing and bioinformatics analysis. PLoS One. 2010, 5: e15661-10.1371/journal.pone.0015661.PubMed CentralPubMedGoogle Scholar
Schweiger MR, Kerick M, Timmermann B, Albrecht MW, Borodina T, Parkhomchuk D, Zatloukal K, Lehrach H: Genome-wide massively parallel sequencing of formaldehyde fixed-paraffin embedded (FFPE) tumor tissues for copy-number- and mutation-analysis. PLoS One. 2009, 4: e5548-10.1371/journal.pone.0005548.PubMed CentralPubMedGoogle Scholar
Zuckerkandl E, Pauling L: Molecules as documents of evolutionary history. J Theor Biol. 1965, 8: 357-366. 10.1016/0022-5193(65)90083-4.PubMedGoogle Scholar
López-Romero P, Gómez MJ, Gómez-Puertas P, Valencia A: Prediction of functional sites in proteins by evolutionary methods. Principles and practice Methods in proteome and protein analysis. Edited by: Kamp RM, Calvete J, Choli-Papadopoulou T. 2004, Berlin Heidelberg: Springer-Verlag, 319-340.Google Scholar
Carettoni D, Gomez-Puertas P, Yim L, Mingorance J, Massidda O, Vicente M, Valencia A, Domenici E, Anderluzzi D: Phage-display and correlated mutations identify an essential region of subdomain 1C involved in homodimerization of Escherichia coli FtsA. Proteins. 2003, 50: 192-206.PubMedGoogle Scholar
Huey R, Morris GM, Olson AJ, Goodsell DS: A semiempirical free energy force field with charge-based desolvation. J Comput Chem. 2007, 28: 1145-1152. 10.1002/jcc.20634.PubMedGoogle Scholar
Wiman KG: Pharmacological reactivation of mutant p53: from protein structure to the cancer patient. Oncogene. 2010, 29: 4245-4252. 10.1038/onc.2010.188.PubMedGoogle Scholar
Mendieta J, Fuertes MA, Kunjishapatham R, Santa-Maria I, Moreno FJ, Alonso C, Gago F, Munoz V, Avila J, Hernandez F: Phosphorylation modulates the alpha-helical structure and polymerization of a peptide from the third tau microtubule-binding repeat. Biochim Biophys Acta. 2005, 1721: 16-26.PubMedGoogle Scholar
Mendieta J, Rico AI, Lopez-Vinas E, Vicente M, Mingorance J, Gomez-Puertas P: Structural and functional model for ionic (K(+)/Na(+)) and pH dependence of GTPase activity and polymerization of FtsZ, the prokaryotic ortholog of tubulin. J Mol Biol. 2009, 390: 17-25. 10.1016/j.jmb.2009.05.018.PubMedGoogle Scholar
Mingorance J, Rivas G, Velez M, Gomez-Puertas P, Vicente M: Strong FtsZ is with the force: mechanisms to constrict bacteria. Trends Microbiol. 2010, 18: 348-356. 10.1016/j.tim.2010.06.001.PubMedGoogle Scholar
Mendieta J, Gago F: In silico activation of Src tyrosine kinase reveals the molecular basis for intramolecular autophosphorylation. J Mol Graph Model. 2004, 23: 189-198. 10.1016/j.jmgm.2004.06.001.PubMedGoogle Scholar
Calleja V, Laguerre M, Larijani B: 3-D structure and dynamics of protein kinase B-new mechanism for the allosteric regulation of an AGC kinase. J Chem Biol. 2009, 2: 11-25. 10.1007/s12154-009-0016-8.PubMed CentralPubMedGoogle Scholar
Tesmer VM, Kawano T, Shankaranarayanan A, Kozasa T, Tesmer JJ: Snapshot of activated G proteins at the membrane: the Galphaq-GRK2-Gbetagamma complex. Science. 2005, 310: 1686-1690. 10.1126/science.1118890.PubMedGoogle Scholar
Wang L, Gesty-Palmer D, Fields TA, Spurney RF: Inhibition of WNT signalling by G protein-coupled receptor (GPCR) kinase 2 (GRK2). Mol Endocrinol. 2009, 23: 1455-1465. 10.1210/me.2009-0084.PubMed CentralPubMedGoogle Scholar
Bienz M, Clevers H: Linking colorectal cancer to Wnt signalling. Cell. 2000, 103: 311-320. 10.1016/S0092-8674(00)00122-7.PubMedGoogle Scholar
Aragay AM, Ruiz-Gomez A, Penela P, Sarnago S, Elorza A, Jimenez-Sainz MC, Mayor F: G protein-coupled receptor kinase 2 (GRK2): mechanisms of regulation and physiological functions. FEBS Lett. 1998, 430: 37-40. 10.1016/S0014-5793(98)00495-5.PubMedGoogle Scholar
Penela P, Murga C, Ribas C, Lafarga V, Mayor F: The complex G protein-coupled receptor kinase 2 (GRK2) interactome unveils new physiopathological targets. Br J Pharmacol. 2010, 160: 821-832.PubMed CentralPubMedGoogle Scholar
Copyright
© López et al; licensee BioMed Central Ltd. 2011
This article is published under license to BioMed Central Ltd. This is an Open Access article distributed under the terms of the Creative Commons Attribution License (http://creativecommons.org/licenses/by/2.0), which permits unrestricted use, distribution, and reproduction in any medium, provided the original work is properly cited.