Significance of bioinformatics in research of chronic obstructive pulmonary disease
Journal of Clinical Bioinformatics
2011
1:35
Received: 3 October 2010
Accepted: 20 December 2011
Published: 20 December 2011
Abstract
Chronic obstructive pulmonary disease (COPD) is an inflammatory disease characterized by the progressive deterioration of pulmonary function and increasing airway obstruction, with high morality all over the world. The advent of high-throughput omics techniques provided an opportunity to gain insights into disease pathogenesis and process which contribute to the heterogeneity, and find target-specific and disease-specific therapies. As an interdispline, bioinformatics supplied vital information on integrative understanding of COPD. This review focused on application of bioinformatics in COPD study, including biomarkers searching and systems biology. We also presented the requirements and challenges in implementing bioinformatics to COPD research and interpreted these results as clinical physicians.
Keywords
bioinformaticsgenomicsproteomicschronic obstructive pulmonary diseasebiomarkers
Introduction
Chronic obstructive pulmonary disease (COPD) is an inflammatory disease characterized by the progressive deterioration of pulmonary function and increasing airway obstruction [1, 2]. It can be caused by inflammatory responses triggered by noxious particles or gas, most commonly from tobacco smoking and is accompanied by chronic bronchitis and emphysema [3, 4]. Some patients go on to require long-term oxygen therapy or even lung transplantation [3]. COPD was ranked as fourth leading cause of death worldwide and is estimated to become the top third cause of mortality by 2020 [5]. According to the data in China, COPD ranks as the fourth leading cause of death in urban areas and third in rural areas[6]. The high mortality and morbidity with COPD, and its chronic progressive nature, have promoted the need to investigate the underlying mechanisms and identify biomarkers for diagnosis, prognosis and drug target.
The understanding of COPD increased by advanced molecular biology approaches, genetically modified animals, virally administered genes, and high-throughput transcriptional profiling approaches. High-throughput methodologies, such as genomics and proteomics, are commonly used. The variety of data from biology, mainly in the form of DNA, RNA and protein sequences is putting heavy demand in computer sciences and computational biology. Bioinformatics, including many sub-disciplines, such as genomics, proteomics and system biology, is an integration of mathematical, statistical, and computational methods to analyze biological, biochemical, and biophysical data. Compared to wet-lab method, bioinformatics focused on data mining via computational means. Sophisticated bioinformatics techniques are developed to analyze the vast amount of data generated from genomics and proteomics studies, such as gene and protein function, interactions and metabolic and regulatory pathways. However, there is still a great challenge to combine the computer figures with clinical data for both bench-scientists and bedside-physicians.
In COPD studies, there are usually three ways to analyze 'omics' data: 1) search correlation between single gene or protein and some clinical features in order to find diagnostic or prognostic biomarkers; 2) integrate clinical and wet-lab information, or omics data from different levels for database establishment and computational models. In this current review, we discussed application of bioinformatics in COPD study. We also presented the requirements and challenges in implementing bioinformatics to COPD research, and gave some suggestions on how to interprete these results as clinical physicians.
Application of bioinformatics in biomarker searching
The diagnosis of COPD is based on the presence of typical symptoms of cough and shortness of breath, together with the presence of risk factors, and is confirmed by spirometry. Therefore, searching for better biomarkers with high specificity and sensitivity indicating the staging and severity of COPD remain as major concerns for clinical physicians. The main value of biomarkers in COPD would be in early diagnosis and to provide the early proof of drug efficacy during the treatment [7]. As a biomarker for COPD, it is expected to be detected in human lung fluids or tissues, sensitive to the progress of COPD, disease-specific to COPD and associated with the status of patients [8]. In these researches, selected genes or proteins usually combined with several clinical features, such as disease susceptibility, lung function, via statistical methods, i.e. logistic regression.
Systems biology and database establishment
The difficulties encountered whilst exploring pathogenesis and searching for biomarkers may be due in part to the complex nature of COPD, which comprises a broad spectrum of histopathological findings and respiratory symptoms [43]. All genetic information and molecular knowledge need to be semantically incorporated and associated with clinical and experimental data. System biology in COPD (as reviewed before[44]) presented a manifold understanding of the complexity of COPD, therefore advanced biomedical research and drug development. This approach relies on global genome, transcriptome, proteome, and metabolome data sets collected in cross-sectional patient cohorts with high-throughput measurement platforms and integrated with biologic and clinical data to inform predictive multidimensional models ranging from the molecular to the organ levels[45].
Comandini etc. [46] assayed a number of published studies by creating a smoker datasets on which to perform data-mining analysis. They utilized Ingenuity Pathways Analysis, a web-based application that enables identifying relationships, biological mechanisms, functions, and pathways of relevance associated with the molecules under study. Their findings supported the central role of anti-oxidant genes in smoking population and suggested Nrf2 may be a COPD risk biomarker. A brand new knowledge base was generated from clinical and experimental data for COPD based on BioXM software platform [47]. This integrated database reduced implementation time and effort for the knowledge base compared to similar systems and provided a free, comprehensive, easy to use resource for all COPD related clinical research.
Clinical profiles could also be considered as a form of omics data since it provided a large quantity of patients' information in a direct conservative way. An in-silico research applied various explorative analysis techniques (PCA, MCA, MDS) and unsupervised clustering methods (KHM) to study a large dataset, acquired from 415 COPD patients, to assess the presence of hidden structures in data corresponding to the different COPD phenotypes observed in clinical practice. This study may be considered as a methodological example showing possible applications of intelligent data analysis and visual exploratory techniques to investigate clinical aspects of chronic pathologies where a mathematical referring model is generally missing[48].
How to understand bioinformatics as clinical physicians
COPD has been approached by genomic and proteomic technologies to allow us to identify patterns of gene/protein expression that track with clinical disease or to identify new pathways involved in disease pathogenesis. The results from these initial studies highlight the potential for these omics approaches to reveal novel insights into the pathogenesis of COPD and provide new tools to improve diagnosis, clinical classification, course prediction, and response to therapy. Existing knowledge such as genotype-phenotype relations or signal transduction pathways must be semantically integrated and dynamically organized into structured networks that are connected with clinical and experimental data. This will require collaboration among multidisciplinary groups with expertise in the respective technologies, bioinformatics, and clinical medicine for the disease. More and more clinical physicians began to realize the promise of these studies and the potential to revolutionize the diagnosis and treatment of COPD, while obstacles still existed between these laboratory findings and their applications in clinical practice. Omics results need to be interpreted by translational medicine and systems biology. Since the vocabulary of systems biology is different than that of molecular biology or clinical research, the biggest challenge is the shift in thinking[49].
Instead of a single-factor approach, which is highly effective in the lab, we need to think globally as clinical physicians. We need to shift from an approach that tries to explain lung pathogenesis by "one molecule, one cell type" to approach that looks at the network of interactions between multiple molecules, pathways, and cells. Given that all the samples were collected from human, it would be of great significance to standardize patient groups. Criteria of clinical informatics and medical informatics, including age, gender, smoking history, staging, complications and clinical signs as well as examinations, should be fully considered before and after any omics investigation. We also need to pay attention to the relation between clinical data and laboratory findings. For this to occur, a well-done history and physical examination would be helpful to supplement these laboratory figures by providing multiple features of human COPD.
Although all of these exciting technological advances that exponentially increase the levels of knowledge about every disease and model serve as facilitators of integration, they do not inherently provide integrative models of disease. Therefore, we proposed that digitalizing essential clinical profiles, such as symptoms and signs, by questionnaires and/or scores, would provide direct vision for physicians and shrink the distance between lab discovery and clinical condition. The combination of epidemiologists, clinicians, geneticists and specialists in bioinformatics, in addition to specialists in disciplines less familiar to epidemiologists, is critical to be prepared for new phenotypic characterizations based on transcriptome and proteome [
50
]. Even though we have spotted considerable advancement in bioinformatics, it still calls for more collaboration to fulfill its potential (Figure
3
). Interdisciplinary teams should allow us to access omics datasets integratively and generate a global model of COPD. It is important to have a special attention from proteomic scientists to explore the combination between advanced proteomic biotechnology, clinical proteomics, tissue imaging and profiling, and organ dysfunction score systems, to improve the clinical outcomes of these patients [
51
]. There is still a great need to explore the COPD-specific and/or related transcriptional factors and regulation networks generated from omics and bioinformatics like in other diseases [
41
].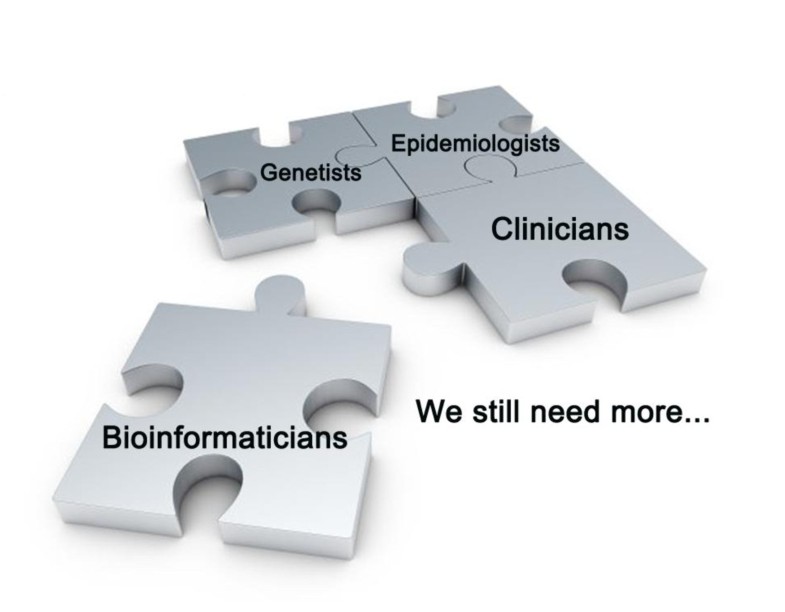 Conclusions
The use of high-throughput techniques for gene and protein expression profiling and of computerized databases has become a mainstay of biomedical research. There is a need to perform omics studies on patients with COPD, describing the association with the disease in terms of specificity, severity, progress and prognosis and monitoring the efficacy of therapies. These omics analysis highlight the ways to investigate protein profiles of cells, biopsies and fluids, explore protein-based mechanisms of human diseases, identify novel biomarkers for diagnosis, therapy and prognosis of multiple diseases and discover new targets for drug development, as shown in Figure
3
. Although the number of clinical studies on COPD is limited, they still serve as the outstanding initiation for proteomic research in such a complex disease. The analysis of protein profiles that are up- or down-regulated, modified, secreted in the airways during the disease may yield vital evidences to understand the pathogenesis and discover new therapeutic targets for the disease (Figure
4
) [
52
]. With many guidelines now in place and model studies on which to design future experiments, there is reason to be optimistic that candidate protein biomarkers will be discovered using proteomics and translated into clinical assays[
53
]. With better study design standardization and the implementation of novel technologies to reach the optimal research standard, there is enough reason be optimistic about the future of omics research and its clinical implications [
54
]. Clinical bioinformatics on COPD could be achieved from the combination of clinical informatics, medical informatics, bioinformatics and informatics by collaborations among clinicians, bioinformaticians, computer scientists, biologists, and mathematicians.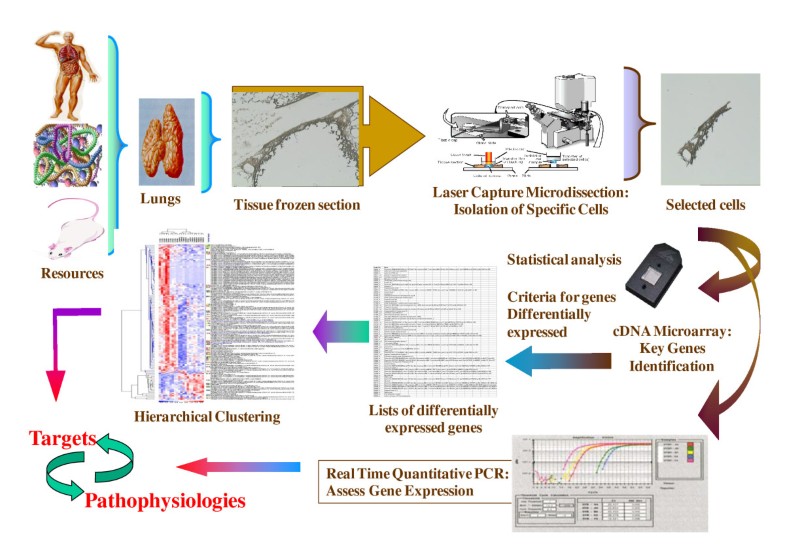 Authors' Affiliations
(1)
Department of Pulmonary Medicine, Zhongshan Hospital, Fudan University, Shanghai, China
(2)
Biomedical Research Center, Zhongshan Hospital, Fudan University, Shanghai, China
Copyright
© Chen and Wang; licensee BioMed Central Ltd. 2011
This article is published under license to BioMed Central Ltd. This is an Open Access article distributed under the terms of the Creative Commons Attribution License (http://creativecommons.org/licenses/by/2.0), which permits unrestricted use, distribution, and reproduction in any medium, provided the original work is properly cited.