A diagnostic methodology for Alzheimer's disease
Journal of Clinical Bioinformatics
2013
3:9
Received: 28 February 2013
Accepted: 19 April 2013
Published: 25 April 2013
Abstract
Background
Like all other neurodegenerative diseases, Alzheimer's disease (AD) remains a very challenging and difficult problem for diagnosis and therapy. For many years, only historical, behavioral and psychiatric measures have been available to AD cases. Recently, a definitive diagnostic framework, using biomarkers and imaging, has been proposed. In this paper, we propose a promising diagnostic methodology for the framework.
Methods
In a previous paper, we developed an efficient SVM (Support Vector Machine) based method, which we have now applied to discover important biomarkers and target networks which provide strategies for AD therapy.
Results
The methodology selects a number of blood-based biomarkers (fewer than 10% of initial numbers on three AD datasets from NCBI), and the results are statistically verified by cross-validation. The resulting SVM is a classifier of AD vs. normal subjects. We construct target networks of AD based on MI (mutual information). In addition, a hierarchical clustering is applied on the initial data and clustered genes are visualized in a heatmap. The proposed method also performs gender analysis by classifying subjects based on gender.
Conclusions
Unlike other traditional statistical analyses, our method uses a machine learning-based algorithm. Our method selects a small set of important biomarkers for AD, differentiates noisy (irrelevant) from relevant biomarkers and also provides the target networks of the selected biomarkers, which will be useful for diagnosis and therapeutic design. Finally, based on the gender analysis, we observe that gender could play a role in AD diagnosis.
Keywords
Feature selectionBiomarkersTarget networksAlzheimer's diseaseSupport vector machine
Methods
AMFES
Selecting a small subset out of hundreds and thousands of features is always a challenging task due to the COD (Curse of Dimensionality) problem for microarray datasets. To tackle this problem, we use a gene selection methodology, AMFES, to select an optimal subset of genes by training an SVM with subsets of genes generated adaptively [11]. AMFES is developed based on two fundamental processes, ranking and selection.
The gene ranking process contains several stages. In the first stage, all genes are ranked by their ranking scores in a descending order. Then, in the next stage, only the top half of the ranked genes are ranked again, while the bottom half holds the current order in the subsequent stage. The same iteration repeats recursively until only three genes remain to be ranked again to complete one ranking process.
Assume at a given ranking stage, there are
k
genes indexed from
1
to
k
. To rank these
k
genes, we follow 4 steps below. (I) We first generate
m
independent subsets S
1
… S
m.
Each subset S
i
,
i
 = 1, 2…
m
, has
j
genes which are selected randomly and independently from the
k
genes (II) Let C
i
be the SVM classifier that is trained on each subset of genes
,
i
 = 1, 2…
m
. For each gene of
k
genes, we compute the ranking score
θ
m
(g) of the gene g, as equation (
1
) below [
11
]. (III) We use the average weight of gene
g
, given by the summation of weights of
g
in
m
subsets divided by the number of subsets for which
g
is randomly selected. The
weight
i
(g) is then defined as the change in the objective function due to
g
as equation (
2
) [
11
] and the
m
value is obtained when θ
m
satisfies the equation (
3
) in [
11
]. This increases the robustness to represent the true classifying ability of gene
g
. (IV) The
k
genes are then ranked in descending order by their ranking scores.
where I is an indicator function, such that Iproposition = 1 if the proposition is true; otherwise, Iproposition = 0. In other words, if gene g is randomly selected for the subset Si, it is denoted as gϵSi and Iproposition = 1.
We denote the objective function of C
i
as
obj
i
(
v
1
,
v
2
, …,
v
5
) where
v
1
,
v
2
…
v
s
are support vectors of C
i
. The
weight
i
(g) is then defined as the change in the objective function due to g, i.e., [
6
–
8
].
Note that if
v
is a vector,
v
(g)
is the vector obtained by dropping gene g from
v
. Let θ
m
be a vector comprising the ranking scores derived from the
m
gene subsets generated thus far and θ
m-1
be the vector at the previous stage. The
m
value is determined when θ
m
satisfies equation (
3
) by adding a gene to an empty subset once a time.
where ||θ|| is understood as the Euclidean norm of vector θ.
The ranking process is performed by ranking both artificial and original features together. The use of artificial features has been demonstrated as a useful tool to distinguish the relevant features from the irrelevant ones, as in [15–17]. When a set of genes is given, we generate artificial genes and rank them together with original ones. After finishing the ranking of the set, we assign a gene-index to each original gene by the proportion of artificial ones that are ranked above it, where the gene-index is a real numerical value between 0 and 1. Then, we generate a few subset candidates from which the optimal subset is chosen. Each subset has a subset value, p i , and it contains original genes whose indices are smaller than or equal to p i [11]. We train an SVM on every subset, and compute its validation accuracy v(p i ). We stop at the first p k at which its validation accuracy is better than baseline (i.e., the case in which all features are involved in training [11]).
When starting to apply AMFES, we first divide all samples into either learning samples or testing samples. Then, we randomly extract r training-validation pairs from the learning samples according to the heuristic rule , where n is the number of learning samples in the dataset. The heuristic ratio and rule are chosen based on experience of the balance of time consumption and performance. The ranking and selection processes from previous sections correspond to one training-validation pair. To increase the reliability of validation, we generate r pairs to find the optimal subset.
We calculate the validation accuracy of all pairs and the average accuracy, av(p i ). Then, we perform the subset search as explained in the previous section to find the optimal p i value, denoted as p*. However, p* is a derived value and does not belong to a unique subset. Thus, we have to adapt all training samples and repeat the entire process in order to find a unique subset.
We generate artificial genes and rank them together with the original genes. Finally, we select the original genes whose indices are smaller than or equal to the p* derived previously as the subset of genes we select for the dataset [11].
Mutual information
To treat a complex disease or injury such as AD, an optimal approach is to discover important biomarkers for which we can find certain treatments. These biomarkers form a certain dependency network as a framework for diagnosis and therapy [18]. We call such a network a target network of these biomarkers [11].
Mutual information has been used to measure the dependency between two random variables. Assume the two random variables X and Y are continuous numbers. The mutual information is defined as [
19
]:
where
f
(x,y) denotes the joint probability distribution, and
f
(x) and
f
(y) denote the marginal probability distributions of X and Y. By using the Gaussian kernel estimation, the
f
(x, y),
f
(x) and
f
(y) can be further represented as [
20
]:
where
M
represents the number of samples for both X and Y,
u
is index of samples
u
 = 1,2,…
M
, and
h
is a parameter controlling the width of the kernels. Thus, the mutual information
I
(
X,Y
) can then be represented as:
where both w, u are indices of samples w,u = 1,2,…M.
Computation of pairwise genes of a microarray dataset usually involves a nested loops calculation which takes a dramatic amount of time. Assume a dataset has N genes and each gene has M samples. To calculate the pairwise mutual information values, the computation usually first finds the kernel distance between any two samples for a given gene. Then, the same process goes through every pair of genes in the dataset. In order to be computationally efficient, two improvements are applied [21]. The first one is to calculate the marginal probability of each gene in advance and use it repeatedly during the process [21, 22]. The second improvement is to move the summation of each sample pair for a given gene to the most outer for-loop rather than inside a nested for-loop for every pairwise gene. As a result, the kernel distance between two samples is only calculated twice instead N times, thereby saving considerable computational time. LNO (Loops Nest Optimization) which changes the order of nested loops is a common time-saving technique in computer science field [23].
Target network
In our approach, a constructed target network is represented by an undirected graph in which nodes represent genes in the system and edges represent the dependency between gene pairs [18]. For each gene pair, we use MI (Mutual Information) to measure the dependency between them and represent the weight of linkages. Assuming that the graph contains N nodes (genes), there should be pairwise MI values for all genetic pairs. An adjacency matrix of N × N elements is used to hold MI values of all the linkages in the graph. The adjacency matrix can be visualized as a heatmap. In addition, hierarchical clustering is often used to help verify the dependency between genes. In this paper, we adapt the Matlab clustergram() function, which uses Euclidean distance as the default method to calculate pairwise distance to visualize the heatmap after clustering.
In order to remove irrelevant linkages in a graph, it is necessary to choose a suitable MI threshold which determines the topology of networks formed. The value of 0 or 1 is assigned to a matrix element based on the chosen MI threshold. References in [
24
] and [
25
] describe a method to determine a suitable threshold using permutations of MI. The procedure involves permuting MI values of gene pairs and then choosing the largest MI to be the threshold. Using this procedure for 30 repetitions of the permutation on the MI matrix, we choose 0.06 as the threshold. The distributions of the original and permuted MI values are shown in Figure
1
.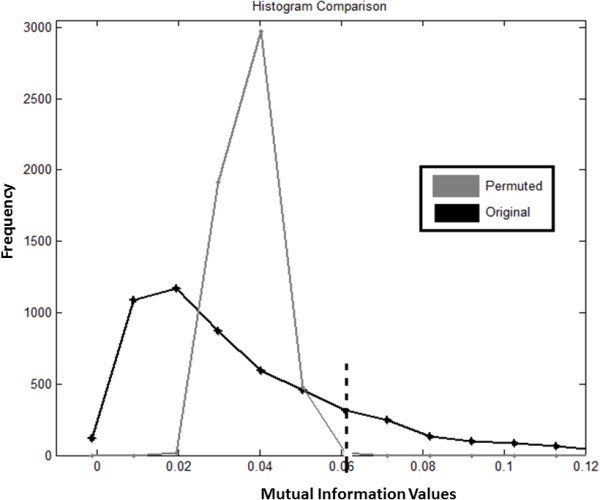 Discussion
In this paper, the GSE 4226 dataset is studied in more detail because the number of female and male subjects is equal, thereby avoiding the biased sampling problem of the datasets (i.e., when the number of samples is unbalanced for two classes). Traditionally, statistical software such as SAM (Significance Analysis of Microarrays) [27], PAM (Prediction Analysis for Microarrays) [28] or ANOVA (Analysis of Variance) are used for analyses of biomarkers [12–14]. Compared to the results in [12–14], AMFES selects a much smaller, yet important, set of biomarkers which are supported by the cross-validation. In [7, 8, 29], the researches were performed based on SVM-RFE for AD biomarker analyses. Here, AMFES can appreciably improve the performance of biomarker analysis. In our current research, we are extending the framework of Zhang et al. [6] by AMFES, and this work will be reported shortly. Finally, interestingly for the gender analysis, when we compare results for female AD subjects with those for male AD subjects, there are no overlapping genes, indicating that the important biomarkers may differ according to gender.
Conclusions
Based on above results, we have proposed a methodology for improving the diagnosis of AD, which is summarized in the Figure
12
. As shown in Figure
12
, after labeling the AD vs. normal samples, AMFES can select a small subset of important biomarkers by evaluating them on an SVM. For a new patient, the proposed method can select the biomarkers accordingly and construct the corresponding target networks to provide a definitive diagnosis. As in [
11
], the target networks can be used for further development of a synergistic strategy to improve the therapy of AD in the future.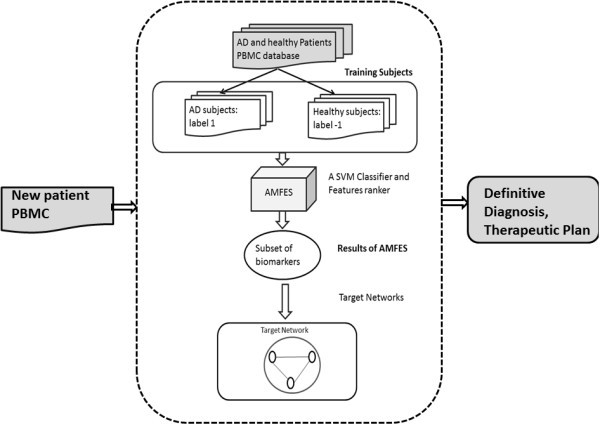 Declarations
Acknowledgements
We thank the two reviewers for their valuable comments and suggestions.
Authors' Affiliations
(1)
Systems Biology Lab, University of Florida, Gainesville, USA
(2)
Department of Electrical and Computer Engineering, University of Florida, Gainesville, USA
(3)
Van Nuys Senior High School, Van Nuys, USA
(4)
Department of Computer and Information Science and Engineering, University of Florida, Gainesville, USA
Copyright
© Hsu et al.; licensee BioMed Central Ltd. 2013
This article is published under license to BioMed Central Ltd. This is an Open Access article distributed under the terms of the Creative Commons Attribution License (http://creativecommons.org/licenses/by/2.0), which permits unrestricted use, distribution, and reproduction in any medium, provided the original work is properly cited.