Microenvironmental genomic alterations reveal signaling networks for head and neck squamous cell carcinoma
Journal of Clinical Bioinformatics
2011
1:21
Received: 18 March 2011
Accepted: 2 August 2011
Published: 2 August 2011
Abstract
Background
Advanced stage head and neck squamous cell carcinoma (HNSCC) is an aggressive cancer with low survival rates. Loss-of-heterozygosity/allelic imbalance (LOH/AI) analysis has been widely used to identify genomic alterations in solid tumors and the tumor microenvironment (stroma). We hypothesize that these identified alterations can point to signaling networks functioning in HNSCC epithelial-tumor and surrounding stroma (tumor microenvironment).
Results
Under the assumption that genes in proximity to identified LOH/AI regions are correlated with the tumorigenic phenotype, we mined publicly available biological information to identify pathway segments (signaling proteins connected to each other in a network) and identify the role of tumor microenvironment in HNSCC. Across both neoplastic epithelial cells and the surrounding stromal cells, genetic alterations in HNSCC were successfully identified, and 75 markers were observed to have significantly different LOH/AI frequencies in these compartments (p < 0.026). We applied a network identification approach to the genes in proximity to these 75 markers in cancer epithelium and stroma in order to identify biological networks that can describe functional associations amongst these marker-associated genes.
Conclusions
We verified the involvement of T-cell receptor signaling pathways in HNSCC as well as associated oncogenes such as LCK and PLCB1, and tumor suppressors such as STAT5A, PTPN6, PARK2. We identified expression levels of genes within significant LOH/AI regions specific to stroma networks that correlate with better outcome in radiation therapy. By integrating various levels of high-throughput data, we were able to precisely focus on specific proteins and genes that are germane to HNSCC.
Keywords
Human Papilloma VirusCold SpotNeoplastic Epithelial CellNCI60 Cell LineStroma Sample
Background
HNSCC is the sixth most common cancer and remains a major cause of cancer morbidity and mortality worldwide [1]. More than 85% of head and neck squamous cell carcinomas (HNSCC) are related to tobacco use, while others may have a relationship to viral etiologies such as human papillomavirus (HPV) infection/colonization. Nevertheless, advanced stage HNSCC remains an aggressive cancer with low survival rates. Molecular studies suggest that HNSCC results from cumulative epigenetic and genetic alterations [2–4]. Various genomic regions and/or genes have been correlated with survival in HNSCC or classified as early detection/aggressiveness markers [2]. Albeit incomplete, such baseline knowledge of HNSCC genetics builds a foundation for exploration of functional associations between these structural alterations and tumorigenesis. Identifying such networks through a more systematic examination of HNSCC is a challenge and the focus of this study.
Recent genome-scanning technologies uncovered an unexpectedly large amount of structural variation (SV) in the human genome [2, 5–9]. Structural variations comprise a large set of alterations including deletions, duplications, large-scale copy-number variants, inversions and translocations in the genome [10]. On the extreme, cancer genomes are known to attain frequent alterations in their gross chromosomal structure by amplification, deletion, translocation and/or inversion of chromosomal segments [11]. These structural variations can inactivate genes, produce multiple copies of genes thereby increasing gene activity or, in rare situations, result in the fusion of two genes. Alterations in tandem may be critical to cancer onset and progression.
Loss-of-heterozygosity/allelic imbalance (LOH/AI) scanning has been widely used to identify genetic alterations in tumor samples. The absence or an imbalanced signal of a DNA marker in the tumor sample would suggest LOH/AI in these cancerous cells [12]. Numerous studies reporting localized and/or genome-wide LOH/AI analyses have discovered specific loci with consistently high frequencies of LOH/AI in HNSCC. These observations have provided key clues for identification of tumor suppressor genes in this malignancy [2, 13]. Moreover, it is now common practice to utilize laser capture micro-dissection (LCM) and LOH/AI analysis of tumor compartments, namely, neoplastic epithelial cells and the surrounding cancer-associated (previously presumed to be non-cancerous) stromal cells (part of the tumor microenvironment) [14–21]. For example, LOH/AI analysis of DNA from the neoplastic epithelial cells of invasive breast carcinomas and surrounding stroma revealed that stromal somatic mutations of TP53 in stromal cells, but not epithelial neoplasia, correlated with regional nodal metastases [22]. In the absence of stromal TP53 mutation, LOH/AI at 5 specific loci in the stromal cells also correlated with regional nodal metastases [22]. Subsequently, only with extensive empiric molecular and cell biology studies did a mechanism for this genetic observation emerge [23]. In general, however, extended functional associations of genes within these regions with their cellular signaling mechanisms have yet to be made. It is hoped that the approach described here will minimize the time and effort put forward for pinpointing functional mechanisms from tumor-associated bicompartmental somatic genomic observations without prolonged repeated empiric work on multiple candidate pathways.
In this study, therefore, we have applied an integrated network discovery framework [24–26] to identify distinct signaling pathway networks (SPN) of the two compartments of HNSCC. Genes of interest are surveyed and signaling networks identifying genes affected by these variations are visualized. We also investigated bicompartmental genomic alterations and their associated SPN's in the context of radiation therapy and human papilloma virus (HPV) status, both germane factors in HNSCC treatment response. Ultimately, our systems biology approach of pathway identification should provide invaluable knowledge in understanding the inter-compartmental and inter-network-based events in HNSCC tumorigenesis and importantly, guide empiric molecular and cellular biology experiments in a targeted manner.
Results
To identify signaling pathway networks for HNSCC stroma and epithelium compartments, we devised a computational workflow in which we integrated our own empirically-derived LOH/AI analysis of genomic DNA from epithelial and stromal compartments of 122 HNSCC specimens [
16
] with publicly available HNSCC-derived genome-wide genomic and functional-genomic datasets and high-throughput proteomics and cellular data (Figure
1
). In this approach, we processed large-scale genome-wide scans of HNSCC tumors to generate a list of candidate genes. This list is then used to search for likely HNSCC-relevant signaling pathways in the pathway analysis framework (based on [
24
–
26
]).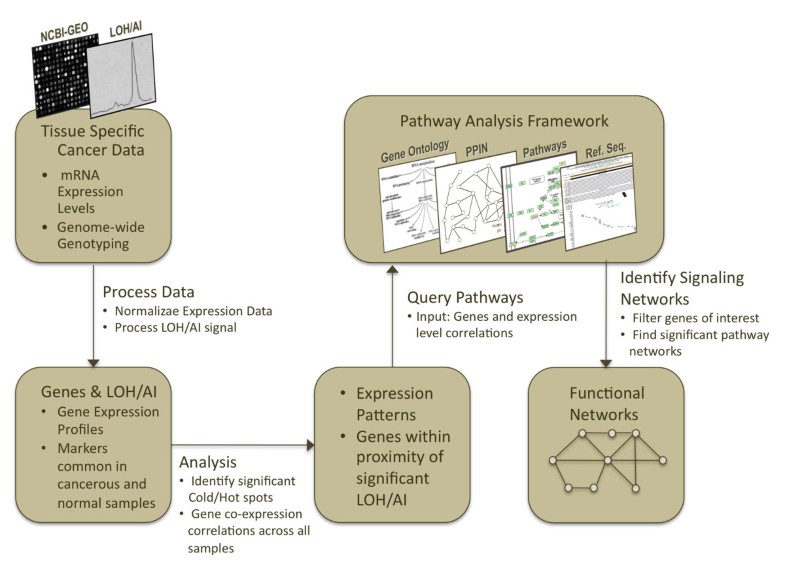 Discussion
In this study, we sought to identify signaling pathway networks in HNSCC-derived carcinoma and their associated stroma by genotyping DNA from each compartment with microsatellite markers and integrating independent publicly available HNSCC-relevant somatic microarray-based mRNA expression and other datasets [32], resulting in a first description of integrative -omics-derived genes to signaling pathway networks in the neoplastic epithelial carcinoma cells and the surrounding tumor-associated stromal fibroblasts. We followed a computational workflow that integrates extensive amounts of high-throughput data, namely protein-protein interactions, gene ontology annotations, protein colocalization data, and known signaling pathways to form signaling networks that can lead to a better understanding of HNSCC (Figure 1). In addition, it is hoped that this type of approach would also result in specific pathways that can be targeted for empiric study linking genomic variation and pathogenesis without taking a candidate approach in functional analysis.
Genetic alterations such as copy number aberrations or LOH/AI have been shown to be associated with HNSCC initiation and progression [2]. In LOH/AI testing, the microsatellite markers are informative in a location-specific manner, however, these markers are an average of 9 cM apart. Hence, we extended the coverage to 250 kb flanking each side of the 75 significant (71 hot + cold spot markers + 4 markers associated with tumor size/nodal metastases) marker locations to generate a list of genes in close proximity. By choosing a shorter segment of the genomic region(s) near a significant marker (500 kb/marker instead of the marker's whole locus, in this case, 9 × 2 cM), we were able to narrow our search space and increase efficiency and minimizing false positives. We believe that our approach has identified significant genomic regions with viable functional associations. In this study, we have utilized microarray data that were generated from tumor samples that were at least 80% tumor cellularity [32]. An 80% tumor-cellularity does not mean 20% are stroma. Because we are looking at tumor-associated stroma, the 80% tumor-cellularity should also contain its tumor-associated stromal cells, but the precise make-up is unknown. The lack of publicly available subcompartment-specific gene expression profiles certainly poses its own challenges. However, since the pathway analysis is seeded from the genomic alterations of the subcompartments, the microarray data should still carry general patterns of expression profiles from head and neck tissue. Hence, the resulting pathways so identified should represent reasonably accurate stroma- and epithelium-specific signaling pathway networks. The generated networks contain a significant number of stroma- and epithelium-specific genes identified through the genotyping experiments. The networks reflect this classification via utilization of an integrative -omics approach. This reduces any false signals that might be introduced via any platform that is utilized.
Conclusions
The proposed framework establishes valuable foundations towards building tumor-specific signaling pathway networks, which in return will provide a more thorough understanding of the pathobiology of HNSCC. The framework not only reduces the search space but also enables us to focus on specific proteins and genes that are active in HNSCC, including novel proteins related to molecular mechanisms involved in HNSCC. Pathways and networks are built up efficiently, utilizing widely available high-throughput data and providing powerful discovery tools for research. Our present work also demonstrates that this approach and framework can be applied to the tumor microenvironment whose role in tumorigenesis, invasion, progression and response in therapy will only gain in prominence [22, 23, 48].
Methods
Hot and cold spots of LOH/AI in HNSCC
In our study, we analyzed HNSCC samples that were previously collected and genotyped in an earlier study [16]. The two compartments of the neoplastic tissue (epithelium and stroma) in 122 samples (Table 1) were isolated using LCM as previously described in [16]. LOH/AI markers used in this study have coverage of 7 to 29 markers per chromosome, i.e. about 9-cM intermarker distance. In total, 366 microsatellite markers were analyzed in both epithelium and stroma samples from the 122 patients (Overall 244 samples, 122 epithelium and 122 stroma samples of the 122 patients). In this earlier study, all significant regions were named hot spots, attributing to their importance, regardless of their LOH/AI frequency.
In this study, hot and cold spots of regional LOH/AI are defined and identified. The LOH/AI regions that have significantly higher frequency of LOH/AI (p-value < 0.05) at a marker or markers compared with other markers along the same chromosome are named hot spots. In contrast if LOH/AI regions have significantly lower frequency of LOH/AI (p-value < 0.05) at a marker or markers compared with other markers along the same chromosome, we named these regions cold spots (See Table 2 for a summary, Additional File 1, Table S1 for epithelium hot/cold spots, and Additional File 1, Table S2 for stroma hot/cold spots). Since hot spot regions have significantly higher frequencies of LOH/AI, we expected to observe variation in these regions, whereas cold spots are regions that were less likely to carry variation. Among the 75 genomic locations of interest, 34 of them are cold spots, and 37 are hot spots. We also included four more markers that correlate to tumor size and nodal status that is not characterized as hot or cold spot in HNSCC (three of the four observed in stroma, and one in epithelium) [16].
Tissue specific mRNA microarray data acquisition
Based on the assumption that genes affected by carcinogenesis should reflect their altered state on their respective mRNA expression levels, we acquired HNSCC somatic expression array data. Genes within close proximity of significant markers of LOH/AI can be associated with the available expression array data to further reveal relationships that can lead to clues about the role of these genes in biological pathways. Hence, publicly available microarray expression data for HNSCC is acquired from the Gene Expression Omnibus [32]. The array source is screened by the platform used, tissue (for controls) and tumors analyzed. The probe sets in this study are processed using the robust multiarray averaging (RMA). In this publicly available data set human gene expression levels were measured using Affymetrix U133 Plus 2.0 arrays. This array is a comprehensive genome-wide expression analysis chip that analyzes the expression level of over 47,000 transcripts and variants. We have merged all of the expression profiles and calculated the Pearson's Correlation Coefficient of all the genes over all the samples.
Identifying signaling pathway networks of HNSCC
Network analysis frameworks are commonly used for computational analysis of high-throughput molecular interaction data and are useful in determining the conservation and divergence of functional organization in biological systems. Current widely used approaches are generally limited to specific target patterns, such as conserved sub-networks and motifs utilizing shortest path algorithms, nearest neighbor queries or topological properties based on limited abstractions from well annotated pathway databases such as KEGG. On the other hand, the computational framework utilized in this study (Figure 1) facilitates identification of components and features of the cellular network that characterize similarities and differences between cancerous and normal cells from a functional perspective. Details of this framework are given in the supplementary text.
Identifying genes within vicinity of LOH/AI markers
First, possible LOH/AI regions of HNSCC are identified using a similar approach presented in [14]. Although carcinogenesis pathway of HNSCC does not directly represent functional relationships of cancer related genes, this information can be utilized to identify signaling pathways via a more systematic and integrated manner.
The LOH/AI regions identified from the signaling pathway will be associated with possible genes. Although each marker can correspond to more than one gene, by associating the genes with available high-throughput data that is related to cancer, genes can be eliminated. Here our assumption is that, if these LOH/AI regions are correlated with each other in terms of carcinogenesis, the effect should be observed in expression levels as well as interaction patterns of these genes after translation. Hence, if the genes within close proximity of these markers are associated with available high-throughput data, we should observe these relationships and eventually form hypotheses over functional relationships of these genes in terms of pathways. Previous studies [49–51] have used a similar approach, where they measured gene expression through mRNA levels to identify tumor suppressor genes in HNSCC. Identifying these hot spot genes will allow us to form a hypothesis of the functional relationships among these genes.
Identifying gene expression correlation with outcome via Global Test
Global Test is a statistical test, giving a score for association of the expression profile of one or more groups of genes to a given outcome [29]. The test is based on the Cox proportional hazards model and is calculated using martingale residuals. This procedure allows us to test hypotheses about the influence of these groups of genes on survival directly; in our case response to genotoxic stress. A study reporting large-scale gene expression changes in response to genotoxic stress is utilized. The data is downloaded from GEO (accession GSE7505) [31]. In this dataset, radiation response was measured in NCI60 cell lines using NHGRI Homo sapiens 6 K array. Out of the 63 array samples, 15 cell lines were labeled as sensitive/resistant to genotoxic stress. Using these 15 samples and the seven set of genes (hot and cold spot genes (Additional File 1, Table S4 and Table S5), stroma and epithelium networks genes (Figure 2, Additional File 1, Table S6 and Table S7) and their intersection, and only the hot/cold spot genes that are identified in these two networks) the global test is run and p-values are acquired (Table 4). P-value calculation method was done using permutations over the whole microarray experiment downloaded. The number of permutations was limited to number of genes on each array used.
Unspervised hierarchial clustering of gene expression profiles
The gene expression profile of each sample is first normalized by transforming values so that the mean is 0 and the standard deviation is 1. The clustering is performed by calculating Pearson's correlation coefficients between mRNA expression profiles over all samples and based on these distances building dendograms with hierarachical clustering method as it is implemented in Matlab (Matworks, Natick, MA). The heatmaps are generated based on the final clustering.
Declarations
Acknowledgements
GB is supported in part from National Institutes of Health grants R25T-CA094186, P30-CA043703 and UL1-RR024989. CE is the Sondra J. and Stephen R. Hardis Endowed Chair of Cancer Genomic Medicine at the Cleveland Clinic, was a recipient of the Doris Duke Distinguished Clinical Scientist Award and is a recipient of the American Cancer Society Clinical Research Professorship, generously supported, in part, by the F.M. Kirby Foundation.
Authors' Affiliations
(1)
Genomic Medicine Institute, Cleveland Clinic, Cleveland, USA
(2)
Taussig Cancer Institute, Cleveland Clinic, Cleveland, USA
(3)
Case Center for Proteomics and Bioinformatics, Case Western Reserve University, Cleveland, USA
(4)
Case Comprehensive Cancer Center, Case Western Reserve University, Cleveland, USA
(5)
Department of Genetics, Case Western Reserve University, Cleveland, USA
Copyright
© Bebek et al; licensee BioMed Central Ltd. 2011
This article is published under license to BioMed Central Ltd. This is an Open Access article distributed under the terms of the Creative Commons Attribution License (http://creativecommons.org/licenses/by/2.0), which permits unrestricted use, distribution, and reproduction in any medium, provided the original work is properly cited.