FISH Oracle: a web server for flexible visualization of DNA copy number data in a genomic context
Journal of Clinical Bioinformatics
2011
1:20
Received: 5 April 2011
Accepted: 28 July 2011
Published: 28 July 2011
Abstract
Background
The rapidly growing amount of array CGH data requires improved visualization software supporting the process of identifying candidate cancer genes. Optimally, such software should work across multiple microarray platforms, should be able to cope with data from different sources and should be easy to operate.
Results
We have developed a web-based software FISH Oracle to visualize data from multiple array CGH experiments in a genomic context. Its fast visualization engine and advanced web and database technology supports highly interactive use. FISH Oracle comes with a convenient data import mechanism, powerful search options for genomic elements (e.g. gene names or karyobands), quick navigation and zooming into interesting regions, and mechanisms to export the visualization into different high quality formats. These features make the software especially suitable for the needs of life scientists.
Conclusions
FISH Oracle offers a fast and easy to use visualization tool for array CGH and SNP array data. It allows for the identification of genomic regions representing minimal common changes based on data from one or more experiments. FISH Oracle will be instrumental to identify candidate onco and tumor suppressor genes based on the frequency and genomic position of DNA copy number changes. The FISH Oracle application and an installed demo web server are available at http://www.zbh.uni-hamburg.de/fishoracle.
Keywords
Copy Number ChangeServer SideSegment DataNCBI Gene Expression OmnibusCopy Number Data
Background
In the recent years, high resolution genomic tiling arrays and SNP chips have become the standard technology to analyze copy number variations in cancer genomes. Modern arrays are inexpensive and allow for determining copy number changes at the resolution of individual genes. Gains or deletions of chromosomal material are often highly variable in size, ranging from several kilobases to entire chromosomes. One important strategy to reveal genetic loci containing putative cancer genes is to perform multiple experiments and identify chromosomal regions representing minimal common alterations. Since large alterations spanning many megabases are typically more common than the small ones containing only a few genes, as many experiments as possible should be included into such kind of analysis. Public databases like the Stanford Microarray Database [1], ArrayExpress [2], the caArray Data Portal [3], the Cancer Genome Project [4] or the Gene Expression Omnibus (GEO) [5], provide an unprecedented source for genomic copy number data, which may be combined with own data for a meta-analysis. In the following we will use the term array CGH (array comparative genomic hybridization) as a synonym for methods generating copy number data including classical array CGH tiling microarrays or SNP microarrays. Although a number of software tools for array CGH analysis and visualization are available — both from academia and commercial vendors — they are often limited to a particular data format, cannot be easily operated, or lack interactivity.
Existing software tools for the visualization of array CGH data can be grouped into different ways, i.e. according to their application type (generic genome browser or pure array CGH analysis) or according to their architecture as a desktop or a web-based application (Figure
1
).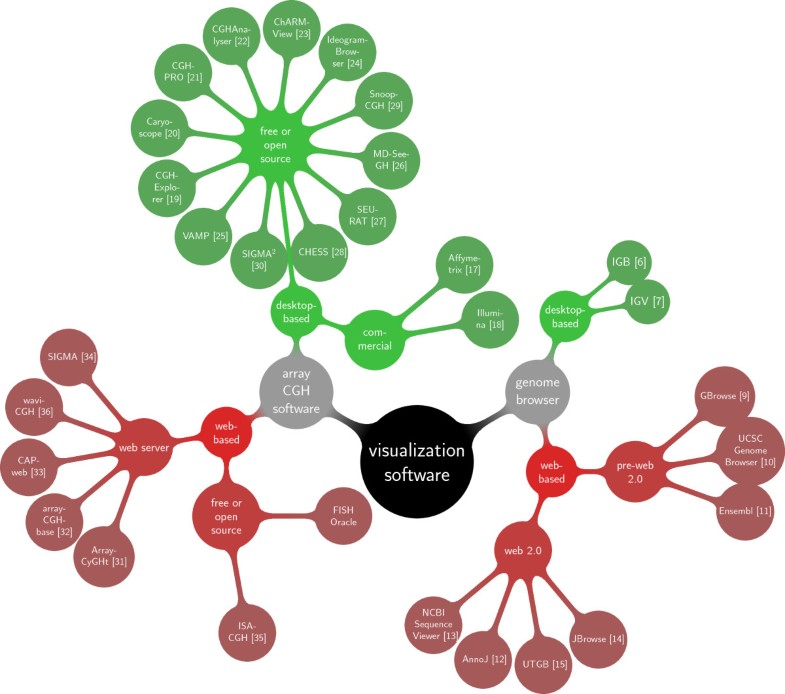 The Integrated Genome Browser (IGB) [6] and Integrative Genomics Viewer (IGV) [7] are general desktop-based genome browsers. The IGB software is based on GenoViz [8], a software library for genome visualization. IGB is an open-source software allowing to display gene structure annotations, genomic alignments of expression array target sequences and EST/cDNA genomic alignments. The different kinds of data loaded from a data source are shown in different sortable horizontal tracks. IGV is an open source desktop-based tool for displaying various types of data including copy number variation data, loss of heterozygosity data, gene expression data, significant DNA aberrations, sequence alignments, and mutations. These data can be displayed using four different types of graphs, namely heatmaps, bar charts, scatter plots, and line plots.
By now, a variety of generic web-based genome browsers have been developed. Some, such as GBrowse [9], the UCSC Genome Browser [10] or the Ensembl Genome browser [11], are classical server-centered web-based applications, fetching data and calculating images for a specific chromosomal region before embedding it into a static web page and sending it to the client. One disadvantage of this technique is the large amount of data traffic required for creating and transferring images of genomic regions with dense information content.
In contrast, recent browsers like AnnoJ [12], the NCBI Sequence Viewer [13], JBrowse [14], or the University of Tokyo Genome Browser (UTGB) [15] are Rich Internet Applications (RIAs) based on a technology called asynchronous JavaScript and XML (AJAX) [16]. This allows rendering images at the client side as well as loading server side data dynamically without having to refresh the whole page, thus reducing both the required data traffic and the server load.
All web-based browsers share the property of being generic in nature. Although they provide many extensions, it is sometimes not possible or at least difficult to achieve the desired visualization. For this reason, several specialized software tools for processing and visualizing array CGH data have been developed. The Affymetrix Genotyping Console [17] and the Illumina GenomeStudio Software [18] are commercial desktop-based software products, capable of handling different microarray data, including array CGH data. Their main disadvantage is that they are both limited to the respective vendor-specific array platform.
In academia, several open source or freely available desktop applications specific for array CGH data have been developed, including CGH-Explorer [19], Caryoscope [20], CGHPRO [21], CGHAnalyzer [22], ChARMView [23], IdeogramBrowser [24], VAMP [25], MD-SeeGH [26], SEURAT [27], CHESS [28], SnoopCGH [29] and SIGMA2 [30], written in Java or C++. With the exception of CGHAnalyzer, all offer an interactive display of array CGH and/or gene expression data. Their support of additional features varies extensively (see Tables S1 and S2 in the additional file 1). The main disadvantage of these tools is that each installation of a program needs to be run on a separate computer, requiring additional effort to keep the software and data up-to-date across release updates. Thus they are not well suited for a distributed, collaborative approach to genome research.
Finally, the group of web-based software for visualization of array CGH data comprises ArrayCyGHt [31], arrayCGHbase [32], CAPweb [33], SIGMA [34], ISACGH [35] and WaviCGH [36]. All of these are primarily accessible via static installations on web servers, requiring to upload the data to be analyzed to external parties. While this supports collaboration, it may raise problems related to privacy concerns or a large volume of necessary data which could become a heavy burden for the server.
Table S3 in the additional file 1 lists the different features of existing web-based software tools for visualizing and analyzing array CGH data. Interestingly, except for waviCGH, all web-based software tools for array CGH data analysis have been published in the mid-2000s. However, waviCGH, published in 2010 and focused on automatic analysis and visualization of array CGH data in a genomic context, does not provide a dynamic visualization. Instead it produces static, chromosome-wide images of the data.
We have developed a software tool called FISH Oracle combining the most important features of the above mentioned software tools for visualizing array CGH data:
First of all, FISH Oracle does not impose a limit on the number of array CGH experiments to be visualized at once. This is important since a large number of experiments is often necessary to obtain accurate results, a fact confirmed by the large number of available data. Secondly, FISH Oracle provides the relevant genomic context, i.e. besides the segment data it displays annotations available in Ensembl [37] at a genomic resolution ranging from ten to 10 million base pairs. This feature is important because the task of identifying new chromosomal aberrations and single genes overlapping with copy number variations requires observation of the relevant data on different scales. Detailed information about a single gene or other functional elements (e.g. their UniProt [38] identifier) can be obtained in FISH Oracle by clicking on the corresponding element. This feature is important as users quickly want to decide whether the functional element in question could be a possible target for further investigation.
FISH Oracle stores its data in a central database. Once uploaded, it can quickly be accessed for any user of the system, thus reducing data redundancy (compared to desktop applications) and allowing collaborative work based on the data. The fast visualization engine in combination with advanced web and database technology supports highly interactive use. FISH Oracle comes with a convenient data import mechanism, powerful search options for genomic elements (e.g. gene names or karyobands) and mechanisms to export the visualization into different high quality formats.
We termed our software FISH Oracle because it is well suited for computational selection of candidate genes for subsequent fluorescence in situ hybridization (FISH) experiments.
We tested the application using two different data sets. One data set consists of SNP microarrays. It includes our own data, data from the Sanger Cancer Genome project [4] as well as data from NCBI GEO. The other data set comprises two channel microarray data from NCBI GEO.
Conclusions
Our examples show that FISH Oracle is a powerful tool to detect amplifications and deletions of chromosomal regions containing proto oncogenes, tumor suppressor genes and fusion genes. Comprehensive search options, the dynamic visualization of multiple microarray experiments and export of high quality images are useful functions to cope with todays amounts of data. State of the art web and database technology facilitate collaborative work. Altogether FISH Oracle represents a helpful tool for life scientists in the search of potential candidate cancer genes.
Declarations
Acknowledgements
This work was supported by a grant from the Werner-Otto-Stiftung to SK and RS (# 6/73) and a grant from the Federal Ministry of Education and Research (BMBF), Germany to RS (# FKZ 01GS08189).
Authors' Affiliations
(1)
Department of Pathology, University Medical Center Hamburg-Eppendorf, Hamburg, Germany
(2)
Center for Bioinformatics, University of Hamburg, Hamburg, Germany
Copyright
© Mader et al; licensee BioMed Central Ltd. 2011
This article is published under license to BioMed Central Ltd. This is an Open Access article distributed under the terms of the Creative Commons Attribution License (http://creativecommons.org/licenses/by/2.0), which permits unrestricted use, distribution, and reproduction in any medium, provided the original work is properly cited.